(PFA) Paediatric First Aid – 2 days/12+ hours
Statutory paediatric first aid qualification in line with Ofsted/EYFS requirements
Designed to provide essential paediatric life saving skills and paediatric incident management
Highly practical and contextualised for your setting
Suitable for primary and nursery school teachers, child minders and child carers as well as parents and grandparents
Outdoor option available for those leading Forest Schools
Please email or phone Andrea on:
07818 258 799
to book a course or visit the booking pages for more information and a price guide.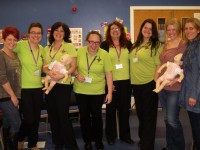 Certification options: Candidates only needing a basic emergency paediatric first aid course can acquire this by successfully attending just day 1 of this course. Please be aware however that to fulfil Ofsted requirements there must always be staff on the premises or on outings which hold an up-to-date full 12 hr paediatric first aid certificate.
Please note: In addition to the care for the children, staff also need to have general first aid cover. As low risk places of employment for most nurseries and schools, an Emergency First Aid at Work (EFAW) qualification will be sufficient with enough staff trained to cover absences caused by holidays, training, sickness and working patterns.
The courses below are open for those needing individual spaces rather than a group course. Please contact Andrea by phone 07818 258 799 or email to enquire about availability and cost if not stated - thank you.
Open Course Dates
There are no open courses scheduled at present – please email or call Andrea on 07818 258799 if you require this training.