Trainer Profiles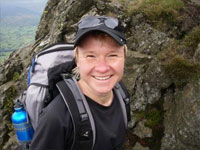 Andrea Bonacker (Training Manager): I was born and brought up in scenic Bavaria where I initially trained and worked as a registered nurse.
In 1999 I fancied a change so I came to the UK to complete an HND in Countryside Recreation Management.
Since then I have enjoyed working in various outdoor sectors, with landbased industries and as a freelance basket maker & tutor.

I enjoy all sorts of outdoor play including fell running, cycle touring, climbing and the odd spot of green woodwork.
Having travelled across the UK over the years I'm now based in Lancashire.
In 2011 I set up First Aid Training plus and when not away training I share my home office with a gorgeous cat called Dylan.
Janette Hopkins is a qualified nurse, health visitor and teacher and the principal paediatric first aid trainer at First Aid Training plus.
She has worked extensively in a variety of roles in hospital, community and college/university settings both locally in the North West and Nationally.
Janette has a passion for children and families with a particular focus on accident and illness prevention. She has delivered a wide variety of training in schools, nurseries and community settings for parents, nursery staff, teachers and students.
An outdoor enthusiast, in her free time she is frequently found in the great outdoors.
First Aid Training plus - Associate Trainers
Sue Campbel is a qualified nurse and principal first aid instructor at her company RHEFAT. She has worked extensively in accident and emergency roles in the UK, and in teaching and emergency response roles in Africa. She brings this extensive knowledge and experience into the training, helping prepare trainees to respond to real world situations with confidence.
Jenny Isherwood is an Outdoor Instructor and has worked in schools in a variety of roles over the last 12 years. As a member of a Scottish Mountain Rescue Team Jenny has first hand experience of the challenges faced in administering and managing first aid in difficult settings. Having previously founded and run her own first aid business First Aid Borders Ltd, she now works for Edinburgh Academy as Head of Outdoor Education and DofE Manager.
Chris Leleux is the owner and principal trainer at CLX First Aid. He is a fully qualified teacher and has worked in both primary and secondary schools for the past 20 years, both in the classroom and as an outdoor education specialist. He still works with children in the outdoors on a weekly basis. He enjoys sharing his knowledge and experiences working with people to make his first aid courses realistic and tailored to suit his customers' needs. He has undertaken Forest School practitioner training, holds a Mountain Leader Award and is active in many adventurous outdoor pursuits.