(FSFA) Forest School First Aid - 2 days/16+ hours
Outdoor first aid qualification covering additional elements of paediatric first aid in a Forest School context
Highly practical and contextualised for your individual setting
Suitable for Forest School Practitioners and those working outdoors with adults and children from 1 year upwards
In line with latest (October 2013) HSE regulations when based on your individual riskassessment
Covers dealing with common incidents in a Forest School setting like cuts, minor burns and hypothermia as well as life threatening incidents including choking and CPR for adults and children
Free additional AED awareness training available on request
Please email or phone Andrea on:
07818 258 799
to book a course or visit the booking pages for more information and a price guide.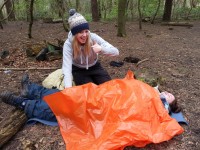 Certification options: ITC Certificate in Outdoor First Aid (RQF/SQA) or ITC Forest School First Aid Certificate (Archimedes).
Please note: This is an outdoor first aid course with additional paediatric content, not a paediatric first aid course. In order to meet Ofsted requirements you have to hold a paediatric first aid qualification.
For Forest School Practitioners working with infants (under 12 months of age) we can run a standard 12 hour Paediatric First Aid course and add a further 4 hour content covering outdoor injury and illness.
First Aid Training plus is a member with the Forest School Association
The courses below are open for those needing individual spaces rather than a group course. Please contact Andrea by phone 07818 258 799 or email to enquire about availability and cost if not stated - thank you.
(FSFA) Forest School First Aid - 2 days/16+ hours
Open Course Dates 2018
| Start Date | Venue | Duration | End Date | Price | Send Booking Enquiry |
| --- | --- | --- | --- | --- | --- |
| Start Date: 12/09/2018 | Venue: Wigan, Lancashire | Duration: 2 days | End Date: 13/09/2018 | Price: £138 | |
| Start Date: 10/10/2018 | Venue: St Helens, Merseyside | Duration: 2 days | End Date: 11/10/2018 | Price: £138 | |